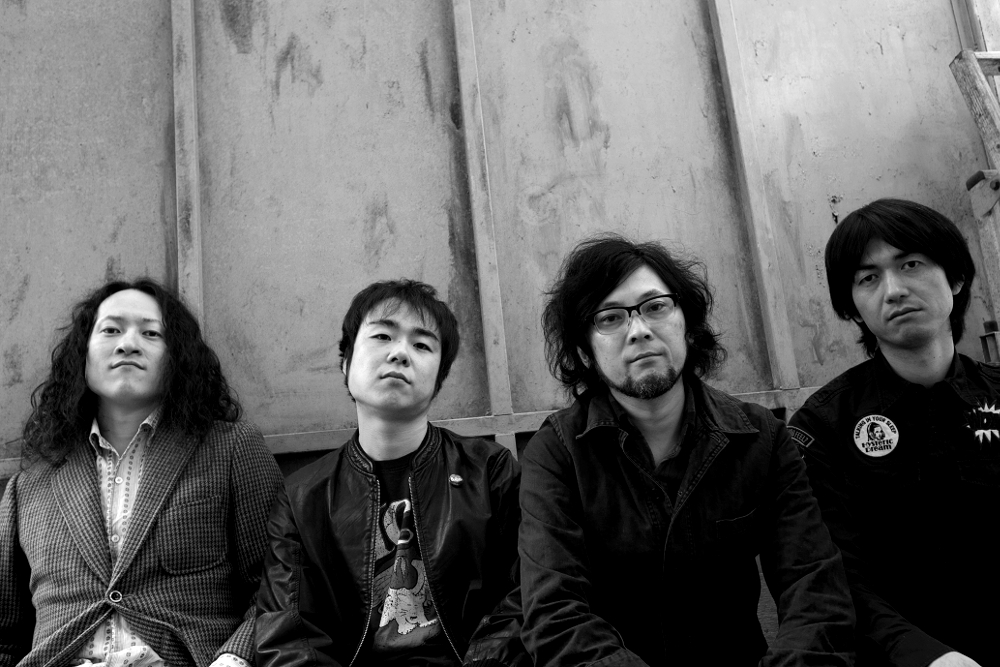 ●2007年12月TOKYOにて結成。
年末の忙しい最中、解散と活動停止に途方に暮れる竿者3人が集まる。
そこに千葉の自称キース・ムーンが合流。
Gt,Vo…SENSHO1500
Gt…キタシンイチ
Ba…ヒネ/ジュン
Dr…サイトーリュータ
●LiveHouseシーンにハードでブルースな風を吹かすことを画策。
ついでにリアルギターロックとしてのツインギターの在り方を提示と啓蒙。
●2008年5月初音源"HALL bee QUIET e.p."をリリース。
同7月自主企画イベント"ELECTRIC REVELATION"をスタート。
以後ライブ三昧の日々。
●2009年3月1stフルアルバム"1959″をリリース。
それにともない"The JFK 1959 TOUR 2009″と銘打ってツアー開始。
SEX MACHINEGUNSの胸を借りつつ、計44本の全国ツアーを敢行。
同8月新体制にともない"1959RECORDS"を設立。
●2011年5月 "1959RECORDS"からデモCD"Bumble bee e.p."をリリース。
●2011年7月 デモCD"making plan Bee"リリース。
●2012年4月 札幌が生んだ地獄の番犬軍団THE THANKSとのスプリットCD"THE ULTIMATE STACK"をリリース。
●2013年12月のリーダーの誕生日にあわせ4年ぶりのフルアルバム"Do you feel lucky?"を盟友Kazuto Maekawa(ELECTRIC EEL SHOCK)の録音とプロデュースのもとにリリース。
現在精力的にLIVE活動中…
****************************************************************************
●You've got to stand up.If not, we are gonna kick your ass!!
The JF***K…
●December 2007
In Tokyo, while people were busily preparing for a new year, three guitarists, who had been lost ways ater their ex-band's broke-up and inactivation, got together and formed The JFK. Soon after,self-proclaimed Keith Moon of Chiba pref, joined this new born band.
Gt,Vo…SENSHO1500
Gt…Shinichi Kita
Ba…Hine/Jun
Dr…Ryuta Saito
The band schemed to sweep the rock music scene with their hard and blues rock sounds and started performing twin-guitar style, as a genuine "guitar rock music"to enlighten rock kids.
●May 2008
Their very first CD "HALL bee QUIET e.p." was released.
July 2008
The JFK hold their self-project event called "ELECTRIC REVELATION"
Then spen day after day throwing live shows.
●March 2009
1st full-album "1959" was released. Along with the release, they kicked off their first tour "The JFK 1959 TOUR 2009" as an opening act of respectable SEX MACHINEGUNS, performing in 44 cities all over Japan.
August 2009
The JFK established a music label 1959RECORDS.
●May 2011
The first demo CD from 1959RECORDS called "Bumble bee e.p." was released.
July 2011
The second demo CD "making plan Bee" was released.
●April 2012
A split CD "THE ULTIMATE STACK" was released with "Heavy-Metal Cerberus" THE THANKS.
●December 2014
2nd full-album "Do you feel lucky?" was released.This album was recorded and produced by Kazuto Maekawa(ELECTRIC EEL SHOCK).
●Current…
Aggressively continues live performing in this megalopolis…